Reverse Seoi specialist Julia Kowalczyk is used to adapt and adjust
11 Jan 2022 09:10
IJF Media team by Nicolas Messner and JudoInside
IJF Emanuele Di Feliciantonio / International Judo Federation
One of those reverse Ippon seoi nage experts among the women is Polish Julia Kowalczyk. She will have to adapt her style to the new rules. She can be penalized for the technique that gave her some great moments in her career. Now she is preparing for the new season where training camps are rare.
Two years ago she won the Grand Prix in Antalya where she took bronze last year and in 2018 she claimed the European U23 title. In 2019 she took a precious bronze medal at the World Championships in Tokyo and was one of the candidates for a medal at the Olympic Games, but finished seventh, which is still a great podium to act.
"At the Olympics I had no specific expectations. I wasn't expected to medal and so I just wanted to show my best judo. The first fight was with Karakas (HUN) and then I beat Monteiro (POR), two big wins. You always want more but I lost against Liparteliani (GEO) and was disappointed in that moment. Overall I'm happy with the result and I'm hoping to do better in 2024. So now I'm working towards the qualification, beginning in a few months."
"I had an amazing time with the team in the lead up to Tokyo, despite some health problems. Since the Games I had just a month without judo but I missed it, to be honest. I'm from a judo family and so I'm always talking about it and am absorbed in it.
Julia was happy to be able to train and to refocus after the Olympic cycle just gone. "It's really nice to have lots of women on the camp and to have many partners, including Olympians. There are lots of cadets for us to work with too, to try new things. We are already working on new ideas, to include the new rules. We can always adapt.
Any opportunity to go abroad is amazing. I didn't expect this many girls. We are here for 9 days which is a good training block. It's only a month until Paris so it is good to get the randori in. Everyone is excited about the new year. I'm feeling fresh and ready."
Julia is open and positive and clearly happy to be training at a high level, with a well planned schedule of events ahead of her. It could have been understood if there was a little disappointment after coming so close to a medal in Tokyo, but there isn't even a hint of that.
I have made some changes and have a new Strength and conditioning coach. I'm also working on the mental side, which is crucial at this level. I'm still young, I think. So I am feeling good and I'm happy that I didn't feel that exhaustion after the Games, that some judoka have."
like
Related judoka and events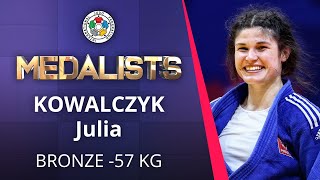 1 Apr 2021
Julia Kowalczyk U57kg bronze Antalya Grand Slam 2021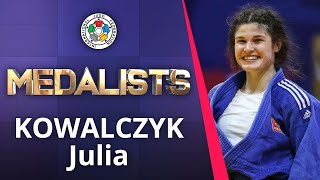 27 Aug 2019
Highlights Julia Kowalczyk Bronze World Championships 2019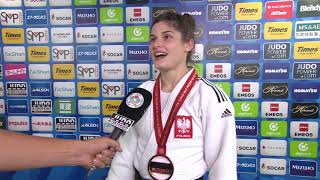 27 Aug 2019
IJF interview Julia Kowalczyk bronze U57kg World Championships Tokyo 2019
All videos
Kelly Staddon
Great Britain
All JudoInside profiles of…
Judo results, photos, videos from…
More judo info than you can analyse 24/7! Share your results with your judo network. Become an insider!