Majlinda Kelmendi won the Grand Slam Paris four times in a row
13 Oct 2021 11:50
IJF Media team and JudoInside
IJF Media Team / International Judo Federation
This week Majlinda has announced officially that she has retired from competition. With the 2021 Paris Grand Slam just ahead of us, she will know she has good memories to Paris. She won her first Junior World title in 2009 and she captured the gold medal of the Grand Slam four times in a row 2014-2017 when she dominated the World Ranking and won all prizes.
It was an incredible run of 4 years standing on top of the podium in Paris. Any judoka who has fought in Paris will tell you, is a very special tournament and it takes a whole new level of courage to fight there, withstanding the most knowledgeable crowd, the biggest, loudest audience of any judo event, anywhere in the world. Coming into that event in February 2014, with a target on your back and a skilled and French-heavy draw in front of you, is not for the faint-hearted and Majlinda took it on with the spirit of a warrior, winning gold not only in 2014, but in 2015, 2016 and 2017 as well. Not many ever earn the prima cheers of the Bercy, but to do it 4 times in a row is truly outstanding.
Her coach, Driton Kuka has his own opinion on this, "Majlinda is a heroine for all the people of Kosovo. She is more than just a judoka and world and Olympic champion. Thanks to her, we became a member of the IJF and of the IOC. When Mr Vizer visited Kosovo for the first time, she was maybe 14 or 15 and it's when he saw her training that he decided to support us. The first world competition we participated in as Kosovo was the Junior World Championships in 2009 and she won the title. She has been a key to the development of our sport in the country. That's why she is more than an athlete. She is and was my athlete, but she is so much more, my heroine, just as she is for every single person in Kosovo."
like
Related judoka and events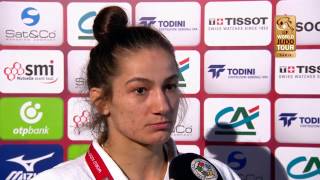 11 Feb 2017
IJF interview Majlinda Kelmendi Grand Slam Paris 2017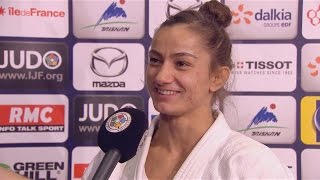 17 Oct 2015
IJF interview Majlinda Kelmendi GS Paris 2015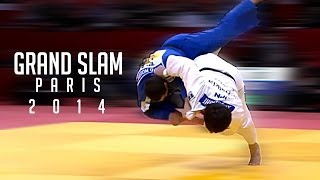 1 Mar 2014
JudoHeroes Highlights GS Paris 2014
All videos
Matthias Vande Sande
Belgium
All JudoInside profiles of…
Judo results, photos, videos from…
More judo info than you can analyse 24/7! Share your results with your judo network. Become an insider!